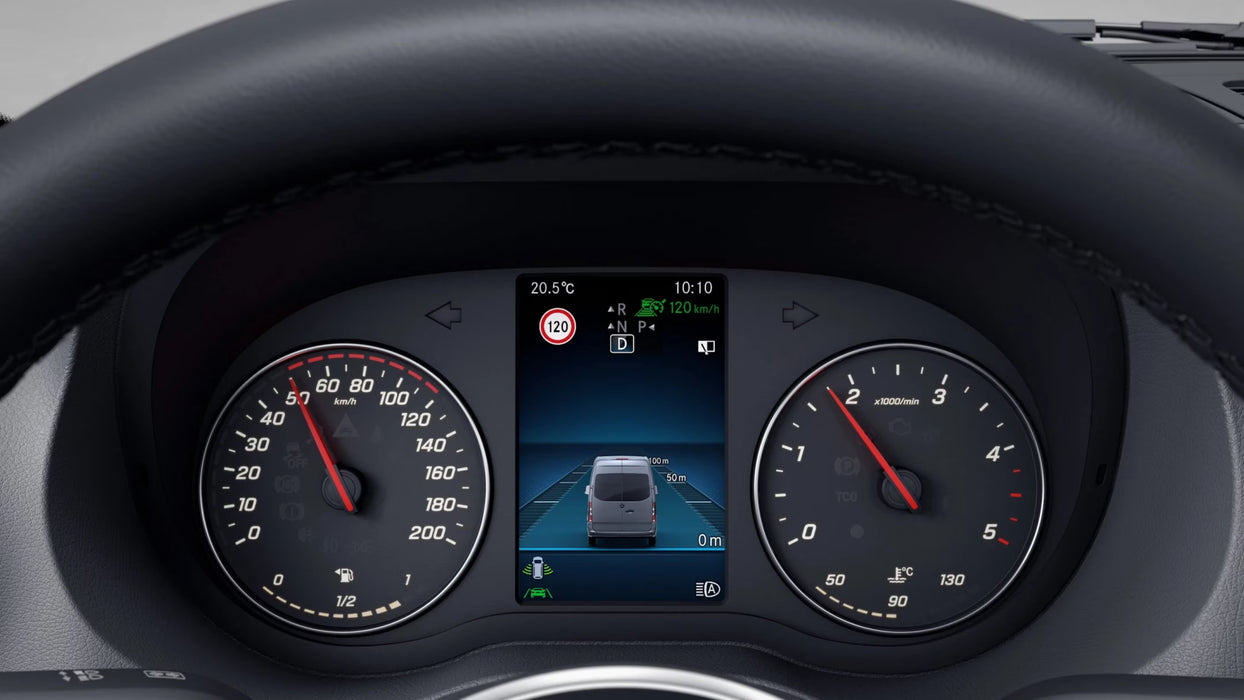 Adaptive Cruise Control Retrofit for Sprinter 907 Distronic PRO (ET4)
Original price
£999.00
-
Original price
£999.00
Discover the next level of driving comfort and safety with our Distronic PRO (ET4) Adaptive Cruise Control Retrofit for your Sprinter 907. This upgrade is specifically designed to enhance your driving experience by providing a state-of-the-art adaptive cruise control system that effortlessly adjusts your vehicle's speed based on the traffic conditions ahead.
Our retrofit solution includes:
Steering wheel buttons: As part of the retrofit process, we will replace your existing steering wheel buttons with a new set that is compatible with the Distronic PRO system, ensuring seamless integration and ease of use.

Radar: We will swap your current radar with a cutting-edge radar sensor that we provide. This new radar sensor is designed to work flawlessly with the Distronic PRO system, allowing your vehicle to maintain a safe distance from the car in front while adjusting its speed automatically. If you send your existing radar back we will refund you £120 for doing so.

RemoteOBD: if choosing the DIY option, we will send our remoteOBD device so we can code your vehicle remotely.
Why choose our Distronic PRO (ET4) Adaptive Cruise Control Retrofit for your Sprinter 907?
Enhanced driving experience: With adaptive cruise control, you can enjoy a more comfortable and relaxed drive, especially on long journeys or in heavy traffic situations.
Increased safety: The Distronic PRO system automatically adjusts your vehicle's speed to maintain a safe following distance, reducing the risk of collisions.
Expert installation: Our experienced technicians will ensure a seamless and professional retrofit process, making your Sprinter 907 look and feel as if it came equipped with Distronic PRO from the factory.
Quality components: We use only high-quality parts for our retrofit solutions, ensuring reliability and optimal performance.
Upgrade your Sprinter 907 today with our Distronic PRO (ET4) Adaptive Cruise Control Retrofit and experience the difference for yourself. For more information or to schedule an installation, contact our expert team. We're here to help you get the most out of your Mercedes-Benz vehicle.
Please note this only supports Automatic Transmission Sprinters
If you do not have BA3 Active Brake Assist - the retrofit still may be possible but please contact us first with your vin.